From Wednesday 8 September we will operating under Level 2 restrictions.  We will be returning to usual opening hours.
Please note that we will require you
* to wear a mask at all times whilst instore
* sign in and sanitise your hands at entry
* maintain a 2m distance between you and other browsing customers
We are here to help you if you need assistance and are happy to organise a delivery for those who are still staying safe at home.
We will not be buying books until we return to Level 1.
Web orders will be processed and delivered via courier and NZ Post.  Store pick ups can be ordered online or organised by phone and email.  We will send you an email when your pick up is ready to be collected. 

To keep up with all the Arty Bees news, why not subscribe to our newsletter at the bottom of the page. 
Our next book club meeting is on Monday 11 October at 6pm.  Our theme for this month is the book that you would recommend to almost anyone.  Check out Facebook or email us to find out more.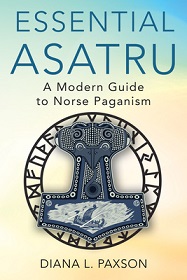 Title:
Essential Asatru: A Modern Guide to Norse Paganism
Newly repackaged and updated with a new foreword by the author, this popular guide to Norse mythology is sure to please fans of Neil Gaiman, the popular tv show "The Vikings," the hit Marvel films featuring Odin and Thor, and the widespread Wicca and Heathen community. A journey to fulfillment and renewal.
In Essential Asatru, renowned author and priestess Diana Paxson demystifies an ancient, rich, and often misunderstood religion, and offers a practical guide for its modern followers.
Filled with clear, concise instructions on living Asatru every day, this truly accessible guide takes you on a journey from Asatru's origins in Scandinavian and German paganism to its acceptance as an official religion in the 1970s.
The book also includes:
-A complete history of Asatru gods and goddesses, including Odin, Thor, and Ostara
-The life values, such as honor, truth, fidelity, and hospitality, that shape Asatru's tenets
-Indispensable information on rituals, rune casting, ethics, and divination
This is an elegant and splendid introduction to a centuries-old religion that continues to enrich and fascinate its followers today.