We are delighted to be open
We are open normal hours.
There are Covid-19 protocols in place to keep our staff and customers safe.
Please abide by these and please don't visit us if you are feeling unwell.
Please note, we will NOT be buying or exchanging books under Level 2.
Thank you for your on-line support during Level 3 and for your patience with the delays in delivery.
We look forward to seeing you all in store soon.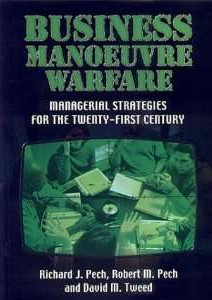 This book, written for both the student and the practising manager, uses military metaphors to analyse and improve functionality in modern business organisations. Business Manoeuvre Warfare uses multiple military applications to enhance strategic thinking in business. It is an approach that will focus the organisation, inspire the embracing of change, creativity, and learning; reduce the occurrence of destructive internal politics by harnessing aggressive tendencies and focusing them on the competition; and it will improve the bottom line by reducing costs as it increases efficiency, while outflanking the competition as it improves effectiveness.
Second hand Trade Paperback