From Wednesday 8 September we will operating under Level 2 restrictions.  We will be returning to usual opening hours.
Please note that we will require you
* to wear a mask at all times whilst instore
* sign in and sanitise your hands at entry
* maintain a 2m distance between you and other browsing customers
We are here to help you if you need assistance and are happy to organise a delivery for those who are still staying safe at home.
We will not be buying books until we return to Level 1.
Web orders will be processed and delivered via courier and NZ Post.  Store pick ups can be ordered online or organised by phone and email.  We will send you an email when your pick up is ready to be collected. 

To keep up with all the Arty Bees news, why not subscribe to our newsletter at the bottom of the page. 
Our next book club meeting is on Monday 11 October at 6pm.  Our theme for this month is the book that you would recommend to almost anyone.  Check out Facebook or email us to find out more.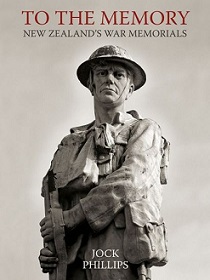 Title:
To The Memory - New Zealand's War Memorials
Over 30,000 New Zealanders have died in wars since 1840. They have been remembered in more than 1000 memorials that stand in public places throughout New Zealand. Except on Anzac Day, most people pass by these monuments without really looking at them. Yet a huge amount of social energy and resources went into their creation – the largest act of artistic patronage in our history.
This beautiful book, based on over 30 years of loving research by leading historian Jock Phillips, tells the fascinating story of who erected these memorials and why, and reveals how their diverse forms say much about New Zealand identity and the tragedy of war. The account begins with the memorials to the New Zealand Wars, explores the sculpted monuments to the South African and First World wars, and the 'living memorials' to the Second World War, then concludes with the many imaginative artistic responses of the 2000s.
Lavishly illustrated with both contemporary and historic photographs, 'To the Memory' will appeal to a wide variety of people – those whose relatives are named on memorials, those with an interest in war history, those fascinated by the creative arts and built heritage – and anyone who cares about New Zealand, for this is a story that goes to the heart of our identity and our place in the world.