Thanks to everyone who saw our note that we are buying again.
The response has been huge.
So huge that we need to slow down in order to get all the books
we have bought over the last 2 weeks on the shelf for you to buy.

We are still buying but selectively.
So, please call if you have more than 3 boxes.
Some sections are overflowing, particularly children's, detective and cooking.

On a similar note if you are looking for
Children's books, detective novels or cook books, we have heaps of new stock.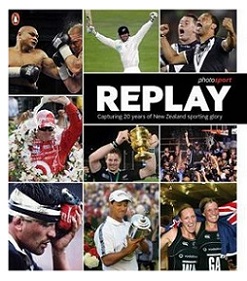 Title:
Replay - Capturing 20 Years of New Zealand Sporting Glory
Produced in partnership with award-winning photographic agency Photosport on its 20th anniversary, this unique book revisits the highs and lows, the agony and ecstasy, the magic and the melodrama of the past 20 years in New Zealand sport. From New Zealand's winning streak in the 1992 Cricket World Cup to the All Blacks' long-awaited Rugby World Cup triumph in 2011, REPLAY brings those memorable moments back to life. Photosport's stunning images are enhanced with commentary from some of New Zealand's best-loved sporting heroes, as they relive those moments in their own words. Push REPLAY on the best and worst of the past 20 years in New Zealand sport.