UPDATE - Selling books to Arty Bees.
We are accepting books for exchange at the moment.
We may buy selectively for cash, but please contact us first.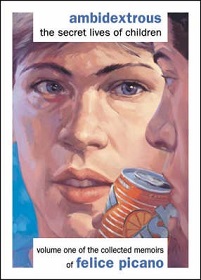 Title:
Ambidextrous - The Secret Lives of Children
Picano's bold, funny and outrageously honest memoir of suburban 1950s childhood forever altered how we remember childhod and how we think of it today. So scandalous at the time that the book's first shipment to Great Britain was seized and burned on the London docks, AMBIDEXTROUS has since become a much-prized classic, and is now re-released as Volume One in this completely repackaged series of Picano's classic complete memoirs.