Our next book club will be meeting on Monday 12 July and we will be discussing books with a seafaring theme.
Call or email us to find out more about the book club.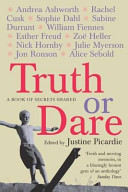 Title:
Truth or Dare - A Book of Secrets Shared
An outstanding collecting memoir by a group of bestselling internatinal writers. Truth or Dare is an anthology of memoirs from eleven internationally recognized authors who have uncovered what is closest to their hearts: from childhood secrets and tales of first love to the story of a fathers suicide. With pieces by Andrea Ashworth, Rachel Cusk, Sophie Dahl, Sabine Durrant, William Fiennes, Esther Freud, Zoe Heller, Nick Hornby, Julie Myerson, Jon Ronson and Alice Sebold, this volume contains all the emotional range and quirky individuality for which these writers are acclaimed... Please note that this edition is stamped and has some shelf wear.