We are buying books again.
Please ring first if you have more than 3 boxes to bring in.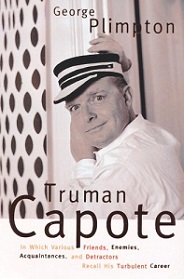 Title:
Truman Capote - In Which Various Friends, Enemies, Acquaintances and Detractors Recall His Turbulent Career
Using oral biography, a technique that perfectly matches the style of his subject, George Plimpton blends the voices of Capote's lovers, haters, acquaintances, and colleagues into a highly readable narrative. Here we are present for the entire span of Capote's life: his Southern childhood and his early days in New York; his first literary success with the publication of "Other Voices, Other Rooms"; his highly active love life; the groundbreaking excitement of "In Cold Blood," the first "nonfiction novel"; his years as a jet-setter; and his final days of flagging inspiration, alcoholism, and isolation. All his famous friends and enemies are here: Katherine Graham, Lauren Bacall, Gore Vidal, Joan Didion, William Styron, Kurt Vonnegut, Norman Mailer, Lee Radziwill, John Huston, John Knowles, William F. Buckley, Jr., and dozens of others....