UPDATE - Selling books to Arty Bees.
We are accepting books for exchange at the moment.
We may buy selectively for cash, but please contact us first.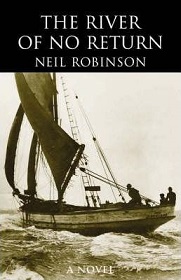 Title:
The River of No Return
Published by Samahani Press, Aucklland, 2002, 273 pages. Set in the Nova Scotian settlement at Waipu, Northland, in 1860. Set against a montage of bushmen working the virgin kauri forests of Northland, merchants and street-wise opportunists in the young town of Auckland, and sea-faring traders of goods, men and human souls in the tropical islands of New Caledonia and the New Hebrides. This is the story of young Donald McKinnon, on his rite of passage, attempting to question the methods and ideas of the minister, Norman McLeod. He struggles with the expectations and values of his Presbyterian community, as he learns to express his love for the 'beautiful and good' Jessie McKay.
Second hand Trade Paperback