UPDATE - Selling books to Arty Bees.
We are accepting books for exchange at the moment.
We may buy selectively for cash, but please contact us first.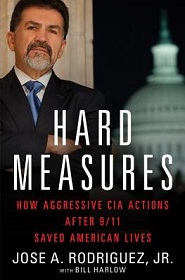 Title:
Hard Measures - How Aggressive CIA Actions After 9/11 Saved American Lives
From a top level operative in the counterterrorism unit of the CIA comes an explosive memoir about the behind-the-scenes fight against Al Qa'ida after September 11. Osama Bin Laden's death is the culmination of years of covert operations and tactics largely overseen by Jose Rodriguez from 2001 to late 2007. During Rodriguez's at times controversial tenure as Chief Operations Officer of the Counterterrorism Centre, CIA officers captured and detained senior Al Qa'ida operatives and implemented Enhanced Interrogation Techniques, which were an integral part of the War on Terror. Hard Measures will examine how the current political climate and resultant policies have negatively impacted the CIA's efficiency and taken away the mechanisms that made feats like the successful Bin Laden operation possible....