We are now accepting books for exchange only.
Please ring first if you have more than 3 boxes to bring in.
We are not buying books for cash yet. We will keep you posted.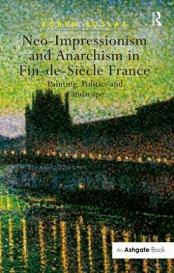 In Neo-Impressionism and Anarchism in Fin-de-Siecle France, Robyn Roslak examines for the first time the close relationship between neo-impressionist landscapes and cityscapes and the anarchist sympathies of the movement s artists. She focuses in particular on paintings produced between 1886 and 1905 by Paul Signac and Maximilien Luce, the neo-impressionists whose fidelity to anarchism, to the art of landscape and to a belief in the social potential of art was strongest. Although the neo-impressionists are best known for their rational and scientific technique, they also heeded the era s call for art surpassing the mundane realities of everyday life. By tempering their modern subjects with a decorative style, they hoped to lead their viewers toward moral and social improvement. Roslak s ground-breaking analysis shows how the anarchist theories of Elisee Reclus, Pierre Kropotkin and Jean Grave both inspired and coincided with these ideals. Anarchism attracted the neo-impressionists because its standards for social justice were grounded, like neo-impressionism itself, in scientific exactitude and aesthetic idealism. Anarchists claimed humanity would reach its highest level of social and moral development only in the presence of a decorative variety of nature, and called upon progressive thinkers to help create and maintain such environments. The neo-impressionists, who primarily painted decorative landscapes, therefore discovered in anarchism a political theory consistent with their belief that decorative harmony should be the basis for socially responsible art.