UPDATE - Selling books to Arty Bees.
We are accepting books for exchange at the moment.
We may buy selectively for cash, but please contact us first.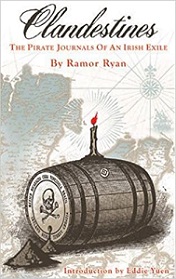 Title:
The Pirate Journals of an Irish Exile
An epic debut, Ramor Ryan's nonfiction tales read like Che Guevara's The Motorcycle Diaries crossed with Hunter S. Thompson's wit and flair for the impossible. A shrewd political thinker and philosopher with a knack for ingratiating himself into the thick of any social situation, Ryan has been there and lived to tell about it. As much an adventure story as an unofficial chronicle of modern global resistance movements, Clandestines spirits the reader across the globe, carefully weaving the narrative through illicit encounters and public bacchanals. From the teeming squats of mid-90's East Berlin, to intrigue in the Zapatista Autonomous Zone, a Croatian Rainbow Gathering on the heels of the G8 protests in Genoa, mutiny on the high seas, the quixotic ambitions of a Kurdish guerilla camp, the contradictions of Cuba, and the neo-liberal nightmare of post-war(s) Central America we see everywhere a world in flux, struggling to be reborn.