We are buying books again.
Please ring first if you have more than 3 boxes to bring in.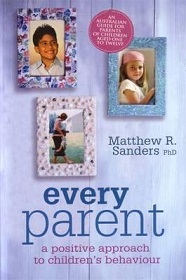 Every Parent shows you how to build a positive relationship with your child and help them develop the skills, values and behaviours that will enable them to do well in life. The book has practical answers to all your concerns about children's behaviour from infancy to late primary school, and provides plenty of no-nonsense, practical advice on how to deal with a wide range of common parenting situations. Thoroughly updated, this book will alleviate the stress of parenting by offering you step-by-step strategies that have been tried and tested.Every Parent provides you with a comprehensive discussion of the nature and causes of common behavioural and development problems in children, and advises when your child's behaviour signals more serious long-term problems. It then helps you put together a logical and realistic parenting plan that will help you build a warm and caring family environment to promote healthy adjustment and positive behaviour in your child.
Second hand Trade Paperback