Thanks to everyone who saw our note that we are buying again.
The response has been huge.
So huge that we need to slow down in order to get all the books
we have bought over the last 2 weeks on the shelf for you to buy.

We are still buying but selectively.
So, please call if you have more than 3 boxes.
Some sections are overflowing, particularly children's, detective and cooking.

On a similar note if you are looking for
Children's books, detective novels or cook books, we have heaps of new stock.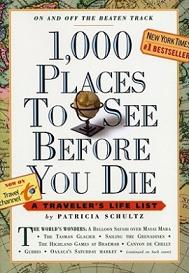 Title:
1000 Places to See Before You Die - A Traveller's Life List
This title describes 1000 "must-see" spots, from beaches to museums to cathedrals to bustling markets, grand hotels to backwater inns, rugged safaris to the most pampering spas. It includes addresses, phone and fax numbers, websites, costs and best times to visit with subject-specific indexes....