Thanks to everyone who saw our note that we are buying again.
The response has been huge.
So huge that we need to slow down in order to get all the books
we have bought over the last 2 weeks on the shelf for you to buy.

We are still buying but selectively.
So, please call if you have more than 3 boxes.
Some sections are overflowing, particularly children's, detective and cooking.

On a similar note if you are looking for
Children's books, detective novels or cook books, we have heaps of new stock.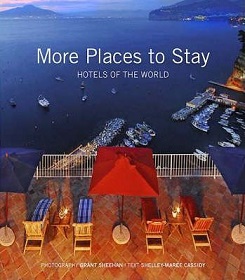 Travel with photographs and text through an eclectic collection of hotels; each with an X-factor and on every continent. Places to stay both classic,contemporary,and unusual, in off-the- beaten track locations, towns and cities. Choose from rural retreats like the Daintree Eco-Lodge deep in the rainforest of Australia,the romantic Cavas Wine Lodge in Argentina, gracious Greenhill Lodge in New Zealand, stunning safari camps in Africa's Botswana, the historic National Hotel in Moscow's Red Square and more. A stunning resource for deciding where to go and where to stay next; for actual and armchair travellers alike.