Our next book club meeting is on Monday 9 August.  Our theme for this month is music.
Call or email us to find out more about the book club.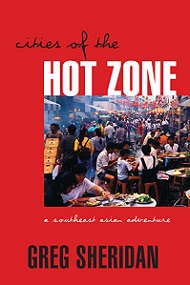 Title:
Cities of the Hot Zone - A Southeast Asian Adventure
Greg Sheridan has loved Southeast Asia for a long time. But he had no idea of what he was letting himself in for when he decided to journey to the hidden depths of some of his favourite cities with his Malaysian-born wife Jessie and their three sons.
From palaces to poverty, from high tech to high tradition, from mosque to market place, Greg Sheridan takes us on a kaleidoscopic journey through six dramatic and compelling cities - Kuala Lumpur, Jakarta, Hanoi, Saigon, Singapore and Hong Kong.
Second hand Trade Paperback