We have stopped buying, we are accepting lots for exchange and credit.
Our Winter operating hours are
Monday to Thursday 9am - 6pm
Friday 9am -7pm
Saturday 10am - 7pm
Sunday 11am - 6pm
Arty Bees is now operating under Orange restrictions.
You can order via our website.  All web orders are delivered via PBT Couriers or NZ Post. 
Store pick ups can be ordered online or organised by phone and email.
To keep up with all the Arty Bees news subscribe to our newsletter at the bottom of the page.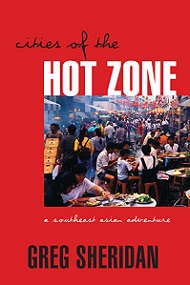 Title:
Cities of the Hot Zone - A Southeast Asian Adventure
Greg Sheridan has loved Southeast Asia for a long time. But he had no idea of what he was letting himself in for when he decided to journey to the hidden depths of some of his favourite cities with his Malaysian-born wife Jessie and their three sons.
From palaces to poverty, from high tech to high tradition, from mosque to market place, Greg Sheridan takes us on a kaleidoscopic journey through six dramatic and compelling cities - Kuala Lumpur, Jakarta, Hanoi, Saigon, Singapore and Hong Kong.
Second hand Trade Paperback