Thanks to everyone who saw our note that we are buying again.
The response has been huge.
So huge that we need to slow down in order to get all the books
we have bought over the last 2 weeks on the shelf for you to buy.

We are still buying but selectively.
So, please call if you have more than 3 boxes.
Some sections are overflowing, particularly children's, detective and cooking.

On a similar note if you are looking for
Children's books, detective novels or cook books, we have heaps of new stock.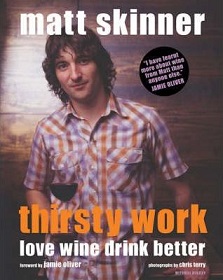 Title:
Thirsty Work: Love Wine Drink Better
Serious but unpretentious, inspiring and fun, Thirsty Work celebrates wine and all that goes into making it and all who are involved in sharing it. Based on the way he teaches the subject of wine to his students at Fifteen, Matt Skinner breaks down all the information you need to feel confident when choosing and drinking wine. All the key topics in wine are covered - from how to taste to the key grapes; where and how wine is made to the range of styles - and his 24 "hour faces of wine" working around the clock, feature all the people who are involved in bringing wine to your table. In everyday terms, Skinner presents his subject on a unique and personal level.