We are buying books again.
Please ring first if you have more than 3 boxes to bring in.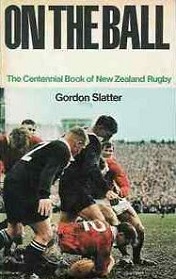 Title:
On the Ball - The Centennial Book of New Zealand Rugby
Published by Whitcombe & Tombs Ltd, Christchurch, 1970, 374 pages. The year 1970 saw the celebrations of a hundred years of rugby football in New Zealand, an occasion that merited a special sort of book - one that tells the history of the game but brings out the human side - the great teams, the great moments of drama, the great players who have lifted the sport of rugby to its place as New Zealand's national game.