UPDATE - Selling books to Arty Bees.
We are accepting books for exchange at the moment.
We may buy selectively for cash, but please contact us first.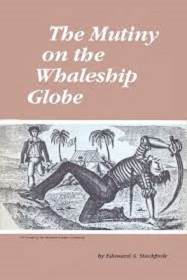 Title:
The Mutiny on the Whaleship Globe - A True Story of the Sea
In the wide range of sea stories there are but a few to equal in grim detail that of the mutiny on board the whaleship Globe of Nantucket. At midnight on January 26, 1824, while the ship was cruising under shortened sail in mid-Pacific Ocean, a small band of desperate men, led by a young harpooner named Samuel Comstock, carried out a deliberate plan to take the ship by killing the officers. The result was a night of terror. The climax of the tale is as dramatic as a Shakespearean play. The story of the mutiny has intrigued and disturbed those who study it. We trust it will have a similar effect on today's readers of this full and more detailed account...