Thanks to everyone who saw our note that we are buying again.
The response has been huge.
So huge that we need to slow down in order to get all the books
we have bought over the last 2 weeks on the shelf for you to buy.

We are still buying but selectively.
So, please call if you have more than 3 boxes.
Some sections are overflowing, particularly children's, detective and cooking.

On a similar note if you are looking for
Children's books, detective novels or cook books, we have heaps of new stock.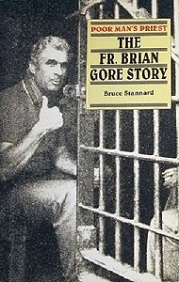 Title:
The Father Brian Gore Story - Poor Man's Priest
This Is Brian Gore's own story set against the backdrop of wild frontier violence and exploitatioin in the island province of Negros Occidental. It is a story of one man's struggle against repressiion and of his grim vision of the bloody Philippines' revolution that lies ahead....