From Wednesday 8 September we will operating under Level 2 restrictions.  We will be returning to usual opening hours.
Please note that we will require you
* to wear a mask at all times whilst instore
* sign in and sanitise your hands at entry
* maintain a 2m distance between you and other browsing customers
We are here to help you if you need assistance and are happy to organise a delivery for those who are still staying safe at home.
We will not be buying books until we return to Level 1.
Web orders will be processed and delivered via courier and NZ Post.  Store pick ups can be ordered online or organised by phone and email.  We will send you an email when your pick up is ready to be collected. 

To keep up with all the Arty Bees news, why not subscribe to our newsletter at the bottom of the page. 
Our next book club meeting is on Monday 11 October at 6pm.  Our theme for this month is the book that you would recommend to almost anyone.  Check out Facebook or email us to find out more.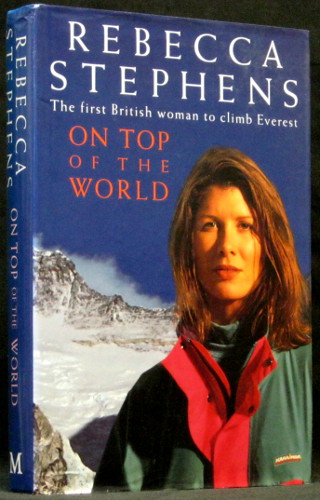 Title:
On Top of the World - The First British Woman to Climb Everest
ON TOP OF THE WORLD tells the story of how Rebecca Stephens fulfilled her dream of climbing Mount Everest - of the preparation, the courage and the sheer determination it took to approach this challenge. Above all it is the extraordinary account of how one woman's passion took her to the top of the world.
- from the dust jacket.
On Top of the World - The First British Woman to Climb Everest
Rebecca Stephens
Macmillan
London
1994
First edition.
Hardback.
Blue cloth boards with titles in white on spine.
196 pages.
No inscription.
Very good second-hand condition.
Binding tight.
Pages clean.
Security tag affixed to back end-paper.
Dust jacket: faded on back and on spine. Minor creasing on edges, otherwise intact.