Thanks to everyone who saw our note that we are buying again.
The response has been huge.
So huge that we need to slow down in order to get all the books
we have bought over the last 2 weeks on the shelf for you to buy.

We are still buying but selectively.
So, please call if you have more than 3 boxes.
Some sections are overflowing, particularly children's, detective and cooking.

On a similar note if you are looking for
Children's books, detective novels or cook books, we have heaps of new stock.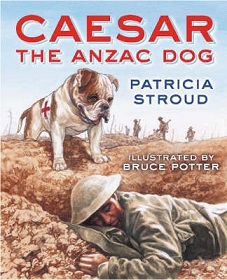 Title:
Caesar - The Anzac Dog
When the New Zealand Rifle Brigade marched down Queen Street to board their transport ship to Egypt and the Western Front, they were led by their official mascot, a bulldog called Caesar, wearing a magnificent studded collar. One of those in the crowd who waved him farewell, and who gave her favourite hair ribbon to Caesar's handler, her uncle Tom, who tied it to his collar, was four-year old Ida, who had played with Caesar and loved him a member of the family. What happened to Caesar is told in this charming and poignant story of a little known aspect of the First World War by Ida's daughter, Patricia Stroud, who grew up with the family tales of Caesar and Uncle Tom's amazing heroism on the Western Front. Trained as a Red Cross Dog, Caesar rescued wounded soldiers from the hell that was No-Man's-Land at the Battle of the Somme. A superb and sensitive true story about the courage and loyalty of a dog and his handler, only one of whom survived. Ages 10+...