Anzac Day Hours:
Sunday 25 April - ANZAC Day 1-7pm
Monday 26 April - 12 -6pm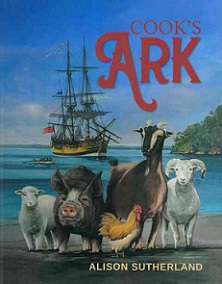 Cook's Ark is a fascinating account of the animals that sailed with Captain James Cook to the South Pacific, with particular reference to New Zealand. It offers a novel insight into an aspect of Cook's voyages rarely touched on by other authors: the menagerie that travelled in uncomfortably close proximity to the men on board Endeavour and Resolution. From the tiniest mouse, poultry, cats, monkeys, goats, pigs, etc to the larger cattle and horse, the reader follows their journey with Captain Cook. Dr Sutherland's intensive research on the vermin, livestock, utility animals, pets and exotic animals that sailed with Captain Cook not only reveals a captivating glimpse into the life of animals at sea in the 18th century, but also exposes little known or understated historical facts. These include the story behind the massacre of Furneaux's men at Grass Cove, the relationship between a Maori girl and a young seaman, and for the readers interested in heritage breeds, concludes by linking animals introduced during Cook's voyages to some of New Zealand's rarest breeds of livestock.