Thanks to everyone who saw our note that we are buying again.
The response has been huge.
So huge that we need to slow down in order to get all the books
we have bought over the last 2 weeks on the shelf for you to buy.

We are still buying but selectively.
So, please call if you have more than 3 boxes.
Some sections are overflowing, particularly children's, detective and cooking.

On a similar note if you are looking for
Children's books, detective novels or cook books, we have heaps of new stock.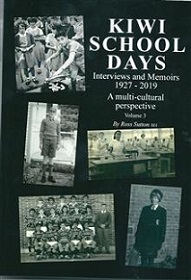 Title:
Kiwi School Days - Interviews and Memoirs 1927-2019, A Multi-Cultural Perspective, Volume 3
Published by the author, Ross Sutton, Second Print, June 2020, 176 pages. This is the third volume of a trilogy detailing the everyday experiences of NZ school children. It covers state and private schools, single sex schools and co-educational from throughout New Zealand. This particular volume has a special emphasis on Maori with seventeen out of the thirty five interviewees being Maori. As to be expected, some sailed through school with no problems while others suffered discrimination and prejudice from pupils and teachers alike. The book traverses all aspects of schooling, academic, sporting, discipline, religion, school libraries, assemblies and prize-givings. There are some extremely interesting anecdotes which will not fail to raise a smile. The book is illustrated with colour photographs. Judith Bassett kindly wrote a foreword.