UPDATE - Selling books to Arty Bees.
We are accepting books for exchange at the moment.
We may buy selectively for cash, but please contact us first.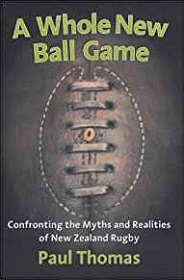 Title:
A Whole New Ball Game - Confronting the Myths and Realities of New Zealand Rugby
Published by Hodder Moa Beckett, Auckland, 2003, 236 pages. Despite the evidence that New Zealand rugby has managed the transition to professionalism reasonably well, there is a perception that the game has lost its way and is in serious decline at the grassroots. Is our national sport really facing a crisis? Award-winning writer Paul Thomas examines rugby from the playground to the boardroom. He finds a game transformed, often for the better, but facing serious challenges to its traditional place in world rugby. He gets inside the whole new ball game. Everyone who cares about the past, present, and future of New Zealand rugby should know what he finds there.
Second hand Trade Paperback