We are buying books again.
Please ring first if you have more than 3 boxes to bring in.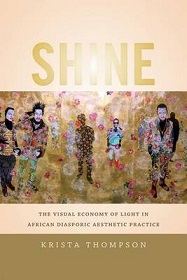 Title:
Shine - The Visual Economy of Light in African Diasporic Aesthetic Practice
In Jamaican dancehalls competition for the video camera's light is stiff, so much so that dancers sometimes bleach their skin to enhance their visibility. In the Bahamas, tuxedoed students roll into prom in tricked-out sedans, staging grand red-carpet entrances that are designed to ensure they are seen being photographed. Throughout the United States and Jamaica friends pose in front of hand-painted backgrounds of Tupac, flashy cars, or brand-name products popularized in hip-hop culture in countless makeshift roadside photography studios. And visual artists such as Kehinde Wiley remix the aesthetic of Western artists with hip-hop culture in their portraiture. In Shine, Krista Thompson examines these and other photographic practices in the Caribbean and United States, arguing that performing for the camera is more important than the final image itself. For the members of these African diasporic communities, seeking out the camera's light-whether from a cell phone, Polaroid, or video camera-provides a means with which to represent themselves in the public sphere. The resulting images, Thompson argues, become their own forms of memory, modernity, value, and social status that allow for cultural formation within and between African diasporic communities....
Second hand Trade Paperback