Thanks to everyone who saw our note that we are buying again.
The response has been huge.
So huge that we need to slow down in order to get all the books
we have bought over the last 2 weeks on the shelf for you to buy.

We are still buying but selectively.
So, please call if you have more than 3 boxes.
Some sections are overflowing, particularly children's, detective and cooking.

On a similar note if you are looking for
Children's books, detective novels or cook books, we have heaps of new stock.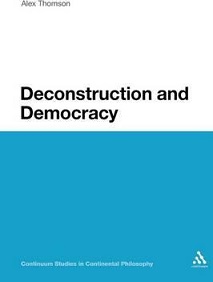 Title:
Deconstruction and Democracy
No democracy without deconstruction. Deconstruction and Democracy evaluates and substantiates Derrida's provocative claim, assessing the importance of this influential and controversial contemporary philosopher's work for political thought. Derrida addressed political questions more and more explicitly in his writing, yet there is still confusion over the politics of deconstruction. Alex Thomson argues for a fresh understanding of Derrida's work, which acknowledges both the political dimension of deconstruction and its potential contribution to our thinking about politics. The book provides cogent analysis and exegesis of Derrida's political writings; explores the implications for political theory and practice of Derrida's work; and brings Derrida's work into dialogue with other major strands of contemporary political thought. Deconstruction and Democracy is the clearest and most detailed engagement available with the politics of deconstruction, and is a major contribution to scholarship on the later works of Jacques Derrida, most notably his Politics of Friendship.