We are open on the Wellington Anniversary from 12pm until 6pm.
Arty Bees is now operating under Orange restrictions.
You can order via our website.  All web orders are delivered via courier and NZ Post. 
Store pick ups can be ordered online or organised by phone and email.
To keep up with all the Arty Bees news subscribe to our newsletter at the bottom of the page.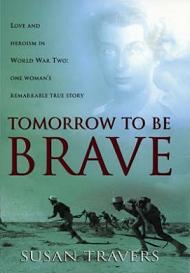 Title:
Tomorrow to be Brave - The Remarkable True Story of Love and Heroism by the Only Woman to Join the Foreign Legion
Susan Travers was born in 1909 in London, and moved to the South of France with her parents when she was in her teens. When war broke out, she joined the French Red Cross as a nurse, seeing active service first in Finland, and later in Africa with the Free French. But it is for her role as General Koenig's driver in the great siege of Bir Hakeim in Libya in June 1942 that she is best remembered when, at the head of a convoy of men and vehicles, she led the way to freedom across minefields and through enemy lines...
Second hand Trade Paperback