We are open on the Wellington Anniversary from 12pm until 6pm.
Arty Bees is now operating under Orange restrictions.
You can order via our website.  All web orders are delivered via courier and NZ Post. 
Store pick ups can be ordered online or organised by phone and email.
To keep up with all the Arty Bees news subscribe to our newsletter at the bottom of the page.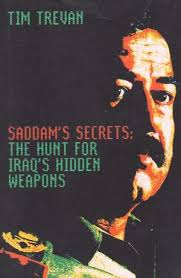 Title:
Saddam's Secrets - The Hunt for Iraq's Hidden Weapons
In an authoritative narrative that begins with the creation of the UN Special Commission for Iraq (UNSCOM) out of the ashes of the Gulf War, Trevan - a British expert of biological weapons and strategist and spokesman for the Commission - describes the cat-and-mouse tactics employed against a master of brinkmanship and a merciless opponent who had not hesitated to use chemical weapons against both Iraq and his own Kurdish people...