We have stopped buying, we are accepting lots for exchange and credit.
Our Winter operating hours are
Monday to Thursday 9am - 6pm
Friday 9am -7pm
Saturday 10am - 7pm
Sunday 11am - 6pm
Arty Bees is now operating under Orange restrictions.
You can order via our website.  All web orders are delivered via PBT Couriers or NZ Post. 
Store pick ups can be ordered online or organised by phone and email.
To keep up with all the Arty Bees news subscribe to our newsletter at the bottom of the page.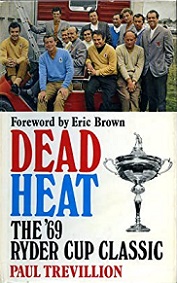 Title:
Dead Heat - The '69 Ryder Cup Classic
Those who witnessed the final stages of the 1969 Ryder Cup match between Britain and America, whether at Birkdale or on television, will recall it again and again over the years. This superbly illustrated edition not only takes in the exciting three-day event, it also covers in depth the build-up to the encounter, and decribes in detail, with the aid of line drawings, each of Royal Birkdale's challenging holes.