We are open on the Wellington Anniversary from 12pm until 6pm.
Arty Bees is now operating under Orange restrictions.
You can order via our website.  All web orders are delivered via courier and NZ Post. 
Store pick ups can be ordered online or organised by phone and email.
To keep up with all the Arty Bees news subscribe to our newsletter at the bottom of the page.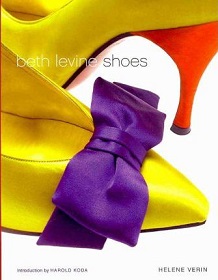 Title:
Beth Levine - Shoes
If you love shoes-and who doesn't?-you know that nothing says as much about a woman's style as her taste in footwear. Long before Jimmy Choo and Christian Louboutin, Beth Levine was designing shoes that were objects of desire and even lust. Levine, who introduced mules, stilettos, and fashion boots to the American market, was a visionary. Born a farmgirl, she took her design inspiration from nature-and everything else: auto racing, patchwork quilts, even the 1969 moon landing. Fashion-forward and exquisitely constructed, Levine's shoes were worn by stars like Marilyn Monroe and Barbra Streisand, favored by designers like Halston, Oscar de la Renta, and Geoffrey Beene, and collected by Azzedine Alaia and Manolo Blahnik. This book's full-color photos of Levine's creations-from vinyl cowboy boots to sublime black silk pumps-display her shoes as touchstones of glamour and, ultimately, works of art."Before MANOLO BLAHNIK, there was the cutting-edge shoe designer BETH LEVINE (1914-2006). Stockinged boots that extended into a wrapped bodysuit, slides lined in Astroturf, and driving pumps in the forms of cars-all were part of her rich vocabulary, being celebrated in BETH LEVINE SHOES, by HELENE VERIN."-Andre Leon Talley, VOGUE April 2009 Widely hailed as the 'First Lady of American Shoe Design', Beth worked under her husband's label to create some of the most innovative and popular shoes of the 60' and 70's, including Nancy Sinatra's boots that walked all over you in her hit single, "These Boots Are Made for Walkin'."-Callie Watts, BUST.com I knew the name but not much about the woman, so when the book Beth Levine Shoes landed on my desk, I quickly flipped the pages, reading the quotes and staring at the shoes, so intricate, creative and whimsical... The book offers insight into arguably the most influential American shoe designer of the 20th century...