We are delighted to be open
Our Queen's Birthday hours on Monday 1 June are 12 till 6.
There are Covid-19 protocols in place to keep our staff and customers safe.
Please abide by these and please don't visit us if you are feeling unwell.
Please note, we will NOT be buying or exchanging books under Level 2.
Thank you for your on-line support during Level 3 and for your patience with the delays in delivery.
We look forward to seeing you all in store soon.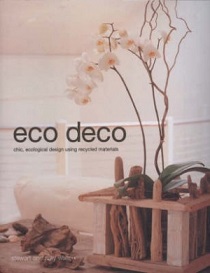 "Eco Deco" blends the recycling ethic with a stylish perspective. A book that aims to encourage you to take a stroll around life's back door and examine the everyday junk and waste that we trash, bury and burn every day. Use it to design new objects, working with waste materials that started out life as something different. Pieces of art, furniture, soft furnishings and home decoration can all be made with ingenuity and inventiveness. The book traces the origins of using recycled materials in interiors, exteriors and in art and crafts. Many materials are easily found and are inexpensive and abundant, such as driftwood, broken china and old clothes, or they can be collected, such as tins, scrap metal, plastic or rubber...