We are buying books again.
Please ring first if you have more than 3 boxes to bring in.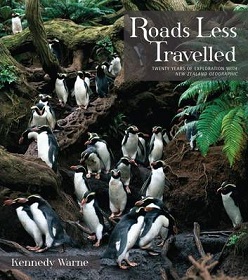 Title:
Roads Less Travelled - Twenty Years of Exploration with New Zealand Geographic
Penguin, 2008. Two decades with New Zealand Geographic magazine have given Kennedy Warne the privilege of seeing New Zealand as few others have seen it. He describes in evocative terms some of the extraordinary places he has visited, from moa skeletons in the marble caves of Golden Bay to the bronze whaler sharks of the Poor Knights. 'I cradled an albatross and hand-fed a kakapo.' He has met a huge range of fascinating people and come face to face with some weird and wonderful creatures. In this book Warne describes many of these adventures in his own words and magnificent full-colour pictures, creating a personal journey through people met, places visited, creatures encountered and dramas observed.