Our next book club will be meeting on Monday 14 June and we will be discussing books written by New Zealand authors.
Call or email us to find out more about the book club.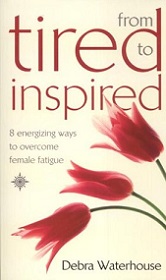 Title:
From Tired to Inspired - 8 Energizing Ways to Overcome Female Fatigue
Fatigue is now on an equal footing with weight as a woman's key health concern. This book is the first to explore 'female fatigue syndrome'. Debra Waterhouse shows women how to stop over-riding their fatigue by drinking coffee, ignoring it or working through it - and do something about it. The book focuses on these key issues: 1) Food - to give 100% you have to get 100% - so sink your teeth into plenty of caloric energy. And weight loss diets only lead to fatigue. 2) Fitness - importance of a strong, muscular body. 3) Intimacy - capturing your sensual energy. 4) Environment - surround yourself with natural energy: beautiful places, plants and fresh air, and change your home and work environment. 5) Sleep - a real battery recharger. 6) Joy - a one minute laugh rejuvenates you more than a 20 minute walk7) Balanced stress - Accept new challenges and look for 'positive' stress.