Thanks to everyone who saw our note that we are buying again.
The response has been huge.
So huge that we need to slow down in order to get all the books
we have bought over the last 2 weeks on the shelf for you to buy.

We are still buying but selectively.
So, please call if you have more than 3 boxes.
Some sections are overflowing, particularly children's, detective and cooking.

On a similar note if you are looking for
Children's books, detective novels or cook books, we have heaps of new stock.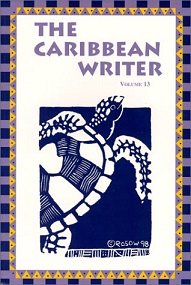 Title:
The Caribbean Writer, Volume 13
The Caribbean Writer is an international anthology of Caribbean literature, published annually. This volume contains a special section on Poetry from the Bahamas; an interview with George Lamming and an essay by Lamming, "The Caribbean Artist in Society"; a personal essay by Edwidge Danticat (along with a recipe for making Haitian plantain custard) poetry by Opal Palmer Adisa, Laurence Lieberman and others; short fiction by E. A. Markham and others; a translation from the Dutch of the first chapter of Boeli Van Leeuwen's A Stranger on Earth, and book reviews of about 40 new Caribbean books.