We are buying books again.
Please ring first if you have more than 3 boxes to bring in.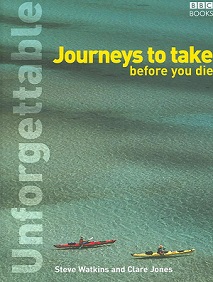 Title:
Unforgettable Journeys To Take Before You Die
Following the success of Unforgettable Places to See Before You Die and Unforgettable Things to Do Before You Die, this is the third title in an exciting new series of books that will help you search out essential sights and experiences around the world. In Unforgettable Journeys to Take Before You Die international travel writers and photographers Steve Watkins and Clare Jones draw on their years of experience in selecting thirty of their favourite trips of a lifetime. Steve and Clare's diverse adventures range from cruising through Patagonian fjords to taking a slow barge down the Canal du Midi; from following in the footsteps of Shackleton in Antarctica to tracking gorillas through the Rwandan rainforest. This book will introduce you to a host of unusual and amazing journeys from around the world. Lavishly illustrated with specially commissioned photographs, Unforgettable Journeys to Take Before You Die is aimed at anyone looking for ideas for an inspirational experience of a lifetime.