UPDATE - Selling books to Arty Bees.
We are accepting books for exchange at the moment.
We may buy selectively for cash, but please contact us first.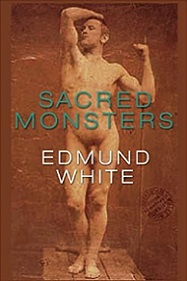 Edmund White is one of our most celebrated novelists. He is also a brilliant journalist and cultural commentator on the arts, contributing to publications as varied The New Yorker, Vanity Fair, the New York Times, the Washington Post, House and Garden, and the New York Review of Books. In Sacred Monsters, White collects more than twenty of his most recent writings on artists and authors, including John Cheever, Patti Smith, Henry James, Mary Cassatt, Paul Bowles, Andy Warhol, John Singer Sargent, Vladimir Nabokov, Auguste Rodin, Edith Wharton, Christopher Isherwood, Martin Amis, Allen Ginsberg, Marguerite Duras, John Rechy, Ford Maddox Ford, David Hockney, Reynolds Price, E.M. Forster, James Abbott McNeil Whistler, and Marcel Proust, among others.