We are currently not buying stock
We expect to start again in a couple of weeks
 
We regret any inconvenience this may cause
as usual we are still taking small exchanges and credits
to shop cards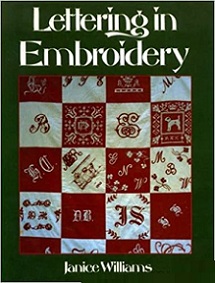 Title:
Lettering in Embroidery
Lettering has long and illustrious connection with embroidery, dating back to such pieces as the Bayeux tapestry where the embroidery helps to tell the story of the Norman invasion of England. The author necessarily discusses the history of lettering in general, and deals with the wider problems of designing for lettering. While she encourages readers to make their own collections of letter forms, she also gives many traditional and modern examples which can be directly copied or can provide inspiration for individual adaptations.