We have stopped buying, we are accepting lots for exchange and credit.
Our Winter operating hours are
Monday to Thursday 9am - 6pm
Friday 9am -7pm
Saturday 10am - 7pm
Sunday 11am - 6pm
Arty Bees is now operating under Orange restrictions.
You can order via our website.  All web orders are delivered via PBT Couriers or NZ Post. 
Store pick ups can be ordered online or organised by phone and email.
To keep up with all the Arty Bees news subscribe to our newsletter at the bottom of the page.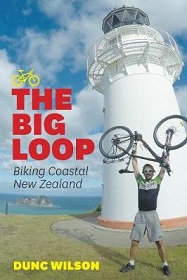 Title:
The Big Loop - Biking Coastal New Zealand
In August 2015, Dunc Wilson became the first person to circumnavigate New Zealand on a bike. This 10,940 km journey followed one rule: cycle the closest available route to the coastline. The Big Loop candidly details Wilson's 240-day cycling adventure, through native bush, ragged coastlines, farm stations and more – demonstrating how acquainting oneself with our country is best achieved under 100 km/h....