Monday is Labour Day.
Our hours are 12-6.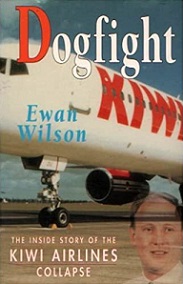 Title:
Dogfight - The Inside Story of the Kiwi Airlines Collapse
Howling at the Moon Publishing Ltd 1994. From a career in the Air Force to back-packing around Europe and the US, from reluctant marijuana dealer to unwitting felon, from small-time travel agent to chief executive of New Zealand's second international airline, Ewan Wilson reached heights that many dream of but few achieve. Then his world, and his airline, came crashing down. Was it management failure, growing too fast, competition from the big boys, sabotage, or a combination or these? You be the judge...