Due to Covid 19, Arty Bees is
now closed until further notice.
Including on-line shopping.
We'll see you when things get back to normal.
Stay home and stay safe.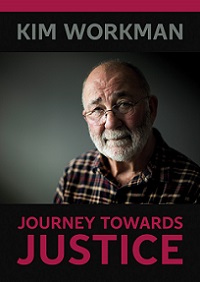 Title:
Journey Towards Justice
Published by Bridget Williams Books, Wellington, 2018, 278 pages. Kim Workman is a central figure in the ongoing discussion of justice and prison policy in New Zealand. This memoir presents his rich narrative of a life lived through periods of personal and political change and upheaval. It tells his remarkable story: from early years growing up in the Wairarapa to working as a police officer during the 1960s and 70s, from his public service roles that included being head of prisons in the early 1990s to his emergence as a passionate advocate for radical justice reform. Workman's story is fascinating and insightful, but above all it is honest, dealing with struggle, spirituality and questions of cultural identity. This is a powerful first-hand account of state and social forces that have helped shape contemporary New Zealand.
Second hand Trade Paperback