We are buying books again.
Please ring first if you have more than 3 boxes to bring in.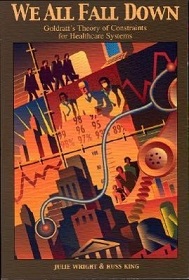 Title:
We All Fall Down - Goldratt's Theory of Constraints for Healthcare Systems
For Beth Seager, dealing with 'fearsome' coworkers and 'fighting fires' has inadvertently become a part of her job description. As a Manager of Admissions for the British National Health Service, Beth is desperate to find a way to free up more beds for sick patients while maintaining her sanity in a volatile work environment. While management continues to implement one faulty plan after another and with no investment dollars in sight, Beth searches for an effective way to improve patient services throughout the healthcare system. Over a series of secret tutoring sessions from her brother in law in the States, and with the help of a tenacious professor and her skeptical husband (a self described venture capitalist with a heart) Beth discovers that it is possible to achieve system wide improvements through the application of Eli Goldratt's Theory of Constraints. Written as a witty and entertaining novel with unforgettable characters, this business book shows you how to apply Eli Goldratt's theories to the healthcare and service industries....
Second hand Trade Paperback