We are delighted to be open
Our Queen's Birthday hours on Monday 1 June are 12 till 6.
There are Covid-19 protocols in place to keep our staff and customers safe.
Please abide by these and please don't visit us if you are feeling unwell.
Please note, we will NOT be buying or exchanging books under Level 2.
Thank you for your on-line support during Level 3 and for your patience with the delays in delivery.
We look forward to seeing you all in store soon.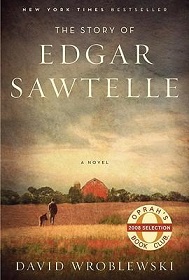 Title:
The Story Edgar Sawtelle
Born mute, speaking only in sign, Edgar Sawtelle leads an idyllic life with his parents on their farm in remote northern Wisconsin. For generations, the Sawtelles have raised and trained a fictional breed of dog whose thoughtful companionship is epitomized by Almondine, Edgar's lifelong friend and ally. But with the unexpected return of Claude, Edgar's paternal uncle, turmoil consumes the Sawtelles' once peaceful home. When Edgar's father dies suddenly, Claude insinuates himself into the life of the farm--and into Edgar's mother's affections. Grief-stricken and bewildered, Edgar tries to prove Claude played a role in his father's death, but his plan backfires--spectacularly. Forced to flee into the vast wilderness lying beyond the farm, Edgar comes of age in the wild, fighting for his survival and that of the three yearling dogs who follow him. But his need to face his father's murderer and his devotion to the Sawtelle dogs turn Edgar ever homeward. David Wroblewski is a master storyteller, and his breathtaking scenes--the elemental north woods, the sweep of seasons, an iconic American barn, a fateful vision rendered in the falling rain--create a riveting family saga, a brilliant exploration of the limits of language, and a compulsively readable modern classic.