Monday is Labour Day.
Our hours are 12-6.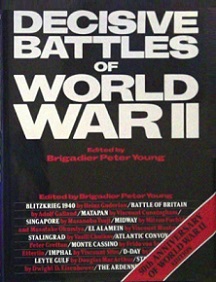 Title:
Decisive Battles of World War II - 50th Anniversary of World War II Edition
An anthology of the major events of WW2 from the Blitzkrieg of 1940 to the final, disastrous German counter-offensive in the Ardennes. Selections are taken from the works of some of the leading actors in the war, including Guderian, Galland, Cunningham, Montgomery, Eisenhower, Bradley, MacArthur, Tsuji, Chuikov, .Slim, Gretton, Von Senger und Etterlin, Okumiya and Fuchida. The conflicts are seen through the eyes of friend and foe alike and the wars at sea and in the air are also represented. Illustrated throughout with contemporary photographs....