We are buying books again.
Please ring first if you have more than 3 boxes to bring in.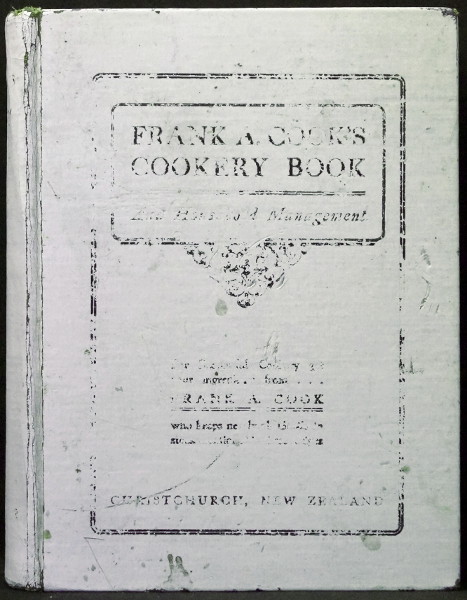 Title:
Frank A. Cook's Cookery Book - A Comprehensive Cyclopedia of Information for the Home
The Saalfield Publishing Co, New York, Akron & Chicago, 1902. Containing cooking, toilet and household recipes, menus, dinner-giving, table etiquette, care of the sick, health suggestions, facts worth knowing, etc. Interesting information is given concerning the White House; how its hospitality is conducted, the menus served on special occasions, views of the interior; portraits of the ladies of the White House, etc. The contents of this book appear to be "The White House Cook Book" but presented with a new title and NZ advertisements. Frank A. Cook was a grocer and Italian Warehouseman in Christchurch. He established himself in business in 1890. The boards are grey enamelled cloth. Black titles on front are faded and difficult to read but state Christchurch, NZ. Spine titles are also illegible. Contents are tight but the paper is heavily age-discoloured. There is a tear to dedication page. 590pp. This is a large heavy book so please check postage with bookseller.