We have stopped buying, we are accepting lots for exchange and credit.
Our Winter operating hours are
Monday to Thursday 9am - 6pm
Friday 9am -7pm
Saturday 10am - 7pm
Sunday 11am - 6pm
Arty Bees is now operating under Orange restrictions.
You can order via our website.  All web orders are delivered via PBT Couriers or NZ Post. 
Store pick ups can be ordered online or organised by phone and email.
To keep up with all the Arty Bees news subscribe to our newsletter at the bottom of the page.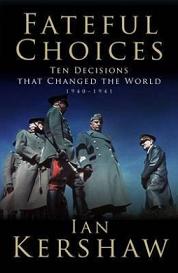 Title:
Fateful Choices - Ten Decisions that Changed the World 1940-1941
The history of the Second World War, with its horrible twists and turns, is so well known that the major events and their outcomes have taken on a sort of inevitability. It has become, in effect, a tragedy with each leader and each country playing an assigned part. Ian Kershaw's extraordinarily thought-provoking and gripping new book, "Fateful Choices", demolishes any such sense of inevitability. He examines closely eleven episodes at the heart of the War where there was an immense range of options open to planners and decision-makers. From declarations of war down to operational priorities, choices were made that could have resulted in an almost unrecognisably different conflict. Other viewpoints were passionately and articulately argued by powerful, ruthless advocates. In no case was the decision that prevailed to any degree foreordained. Kershaw, not least through his immense work on the career of Adolf Hitler, has spent many years thinking about the contingent nature of history. "Fateful Choices" dramatizes brilliantly and distressingly events that between them could have resulted in disaster or victory - either for the Allies or for the Axis....