Thanks to everyone who saw our note that we are buying again.
The response has been huge.
So huge that we need to slow down in order to get all the books
we have bought over the last 2 weeks on the shelf for you to buy.

We are still buying but selectively.
So, please call if you have more than 3 boxes.
Some sections are overflowing, particularly children's, detective and cooking.

On a similar note if you are looking for
Children's books, detective novels or cook books, we have heaps of new stock.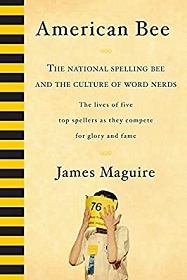 Title:
American Bee - The National Spelling Bee and the Culture of Word Nerds - The Lives of Five Top Spellers as they Compete for Glory and Fame
What the bestselling Word Freak did for Scrabble, this riveting narrative now does for the National Spelling Bee. Here is a captivating slice of Americana - part sporting event, part absorbing human drama, and part celebration of the magic of words. Every spring in the nation's capital, after a starting pool of 10 million kids narrows to 250 finalists, America's top young spellers face off in a nail-biting contest. So electric is the drama that millions of viewers tune in to watch ESPN's live telecast...