We are now accepting books on exchange and credits to shop cards.
We are not buying stock for cash yet. We are operating under Level 2 restrictions.
Please note that we will require you
* to wear a mask at all times whilst instore
* sign in and sanitise your hands at entry
* maintain a 2m distance between you and other browsing customers
We are here to help you if you need assistance and are happy to organise a delivery for those who are still staying safe at home. Web orders will be processed and delivered via courier and NZ Post.
Store pick ups can be ordered online or organised by phone and email. We will send you an email when your pick up is ready to be collected.
To keep up with all the Arty Bees news, why not subscribe to our newsletter at the bottom of the page.
Our next book club meeting is on Monday 8 November at 6pm.  Check out Facebook or email us to find out more.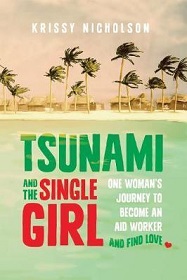 Title:
Tsunami and the Single Girl: One Woman's Journey to Become an Aid Worker and Find Love
Set in humanitarian disaster zones around the world, Tsunami and the Single Girl is the story of Krissy Nicholson's journey to become an aid worker and her (seemingly) never-ending search to find a soul mate.
As a free-spirited traveller, Krissy--now almost thirty--needs her life to start taking shape. So how does a wild night on a dance floor in Vietnam land her a sought-after role in Oxfam working in emergency relief? And how does the excess of the expatriate scene, a string of Mr Wrongs and failed romances lead to self-discovery and ultimately self-fulfilment?
Against the backdrop of adrenalin-fuelled disaster response, Krissy begins to understand the power of the human spirit in the face of adversity. Whether co-ordinating emergency relief work in-the-field, or trying to find love in all the wrong places, Krissy takes us on a heartfelt and surprising adventure.