From Wednesday 8 September we will operating under Level 2 restrictions.  We will be returning to usual opening hours.
Please note that we will require you
* to wear a mask at all times whilst instore
* sign in and sanitise your hands at entry
* maintain a 2m distance between you and other browsing customers
We are here to help you if you need assistance and are happy to organise a delivery for those who are still staying safe at home.
We will not be buying books until we return to Level 1.
Web orders will be processed and delivered via courier and NZ Post.  Store pick ups can be ordered online or organised by phone and email.  We will send you an email when your pick up is ready to be collected. 

To keep up with all the Arty Bees news, why not subscribe to our newsletter at the bottom of the page. 
Our next book club meeting is on Monday 11 October at 6pm.  Our theme for this month is the book that you would recommend to almost anyone.  Check out Facebook or email us to find out more.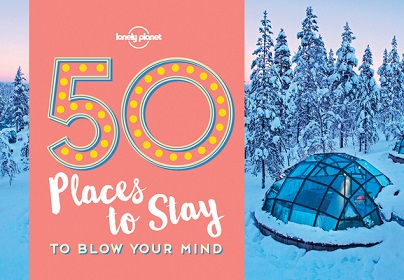 Title:
Lonely Planet - 50 Places to Stay to Blow Your Mind
From the people who've been delivering trustworthy guidebooks to every destination in the world for 40 years, Lonely Planet's 50 Places to Stay To Blow Your Mind will make your next trip an unforgettable one. From glass igloos in Finnish Lapland, to wooden spheres suspended in Canadian treetops; from geodesic domes in the Patagonian wilderness, to old-school opulence at New York's Plaza Hotel - these are the ultimate in overnight experiences. Not every place is a budget buster; sometimes it's about the spectacular locations, like the gravity-defying Bivacco Gervasutti on Mont Blanc in Italy (page 50). There are places that literally disappear into their surroundings like the Mirrorcube in Harads, Sweden (page 42), and others that stand tall and command attention like the Frank Gehry-designed Hotel Marques de Riscal in Spain (page 92). We've only included a place if it gives us a thrill, makes us catch our breath and inspires us to see the world through different eyes. We hope they make you smile, make you marvel and motivate you to go on a journey to a new destination. With this pocket-sized gift book showcasing 50 of the most luxurious, extraordinary and spectacular accommodation offerings around the world, even sleeping will be an adventure on your next trip. ...