Thanks to everyone who saw our note that we are buying again.
The response has been huge.
So huge that we need to slow down in order to get all the books
we have bought over the last 2 weeks on the shelf for you to buy.

We are still buying but selectively.
So, please call if you have more than 3 boxes.
Some sections are overflowing, particularly children's, detective and cooking.

On a similar note if you are looking for
Children's books, detective novels or cook books, we have heaps of new stock.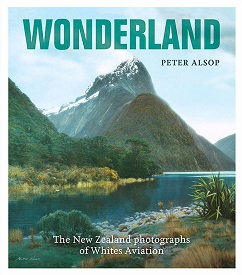 Title:
Wonderland: The New Zealand Photographs of Whites Aviation
A superb tribute to the New Zealand landscape photography of Whites Aviation. These hand-coloured photographs were a sensation in the 1950s and 1970s, adorning offices and lounges throughout the land. First presented in Peter Alsop's bestseller Hand-Coloured New Zealand, the interest in these retro photos continue to remain high.