We are delighted to be open
We are open normal hours.
There are Covid-19 protocols in place to keep our staff and customers safe.
Please abide by these and please don't visit us if you are feeling unwell.
Please note, we will NOT be buying or exchanging books under Level 2.
Thank you for your on-line support during Level 3 and for your patience with the delays in delivery.
We look forward to seeing you all in store soon.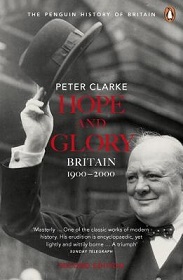 Title:
Hope and Glory - Britain 1900-2000
Hope and Glory is a brilliant examination of the political, social and economic changes that transformed Britain throughout the twentieth century - considering how issues such as jobs and prices, food and shelter, and education and welfare have shaped Britain's society. For this second edition, Peter Clarke has brought his study right up to date, covering Britain from the fall of Thatcher to the rise of Blair's New Labour, the nation's role in the EU, and the books, films and music that have captured the spirit of the times. Embracing a century of national experience, Hope and Glory superbly conveys the diverse aspects of all the generations who lived through this era of unparalleled change...